When it comes to the new semester, Lin junxiong, the headmaster of vientiane, Laos, is the biggest worry about recruitment.
"This term applies to read Lao students have more than 500 people, but we can only recruit 200, many people find me, didn't also the way", lam chun hung on China news agency reporters that too many students want to learn Chinese, and school conditions is limited, it is unable to do this.
At present, there are all kinds of Chinese language school at Lao 8, but even if is one of the largest and most students (nearly 2800 people), teachers (faculty and staff of 168 people) Lao are strongest in Britain, is still unable to fully meet the needs of students learning Chinese.
Chinese education has been incorporated into the national education system in Laos, covering all stages of kindergarten through high school, according to tao ju, vice-principal of liao du public school. In Laos, only 20 percent of Chinese students are Chinese, and the majority of Laotian students are students.
"In addition to perfect teaching equipment and civilian charge standard, the most attract local Lao Lao are college students, is the bilingual (Chinese and Lao) teaching mode", said lam chun hung, along with the development of China, the world increasingly close contacts with China, a big increase in demand for the Chinese people, is also in Laos; To master Chinese is to feel the golden key of employment.
In recent years, economic and trade cooperation between China and Laos has been increasingly advanced, and China has become the largest source of foreign investment and the second largest trading partner of Laos. The kunman highway, the foundation of the old and the old railway, the Laos one communication satellite are officially delivered... Led by a series of major cooperation projects, more and more Chinese enterprises have settled in Laos, which directly stimulated the local labor market.
Laos future media company, head of dragon climbing to the China news agency reporters said, "a lot of Chinese company is equipped with Lao translator, but for the sake of long-term, still wants to hire someone who can speak Chinese Lao employees, because they know more about local conditions, to expand their business in Laos".
In dragon climbing to lead team, mastering Chinese Lao employees about 20% of the total number of local employees, their wages generally at $five hundred to $six hundred, one to two times higher than not of Chinese people.
But in his view, the "Chinese fever" in Laos is not enough and will continue to heat up in the future.
"Lao media companies, the future Chinese staff's gap is still large, and as far as I know, many Chinese companies also face the same problem", dragon climbing, said "every graduation season, to master the Chinese graduates often is fully, this shows that Laos is a large space the potential of Chinese language education."
Longpan's expectation for the future of Chinese education has always been the direction of many people's efforts.
In July, China's first overseas university, the university of suzhou in Laos, welcomed its first 22 graduates. They will use what they have learned to contribute to the economic and social development of Laos and promote the development of Chinese education in Laos. Previously, the Lao su university also set up a Chinese language proficiency test (HSK) test site for Chinese language training.
Students playing near the campus bookstore. Councilor perturbation
At the same time, there is a group of students from Laos who are working hard for the "Chinese dream".
Gong, who is the fourth generation of ethnic Chinese in Laos, is studying Chinese education. His hometown is located in luangnan province, Laos, and Laos is the only state-level port in China.
In August 2015, the two countries signed a brief "Lao boten, China - butyl grinding economic cooperation zone construction overall plan together", marks the Chinese in Laos and the entire southeast Asia the first cross-border economic cooperation zone. At the time, gong's article was heartened by the news.
"The establishment of the cooperation zone, will certainly to hometown economic development bring great opportunities and demand for Chinese will also reached an unprecedented height", gong said article, this strengthened his determination to return home to promote Chinese education.
Among the students in gong's article, there are many others who have similar ideas. Thanks to these "fresh blood", Lao's "Chinese fever" will be even hotter. (after)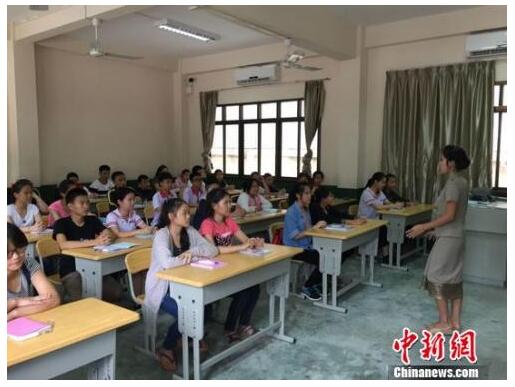 谈起刚刚开始的新学期,老挝万象寮都公学校长林俊雄最大的烦恼就是招生问题。
  "这学期申请入读寮都的学生有500多人,但我们只能招收200名,很多人找到我,也没办法",林俊雄对中新社记者表示,想学中文的学生太多,而学校条件有限,实在是有心无力。
  目前,老挝有各类华文学校8所,但即使是其中规模最大、学生最多(近2800人)、师资力量最强(教职员工168人)的寮都公学,也依然无法完全满足学生学习中文的需求。
  据寮都公学副校长陶菊介绍,华文教育已被纳入老挝国家教育体系,涵盖幼儿园至高中各个阶段。在寮都公学,华裔学生仅占20%,老挝裔学生占了大多数。
  "除了完善的教学设备和平民化的收费标准,寮都公学最吸引当地老挝裔学生的,莫过于这里的双语(中文、老挝语)教学模式",林俊雄说,随着
中国
的发展,世界各国与中国交往日趋密切,对于中文人才的需求大幅增加,老挝也是如此;掌握中文,就等于摸到了就业的"金钥匙"。
  近年来,中老两国经贸合作日益推进,中国已成为老挝第一大外资来源国和第二大贸易伙伴;昆曼公路贯通、中老铁路奠基、老挝一号通信卫星正式在轨交付……在一系列重大合作工程的带动下,越来越多中资企业落户老挝,直接刺激了当地的用工市场。
  老挝未来传媒公司负责人龙攀向中新社记者介绍说,"很多中资公司配备了老挝语翻译人员,但出于长远考虑,仍愿意雇佣会讲中文的老挝员工,因为他们更了解当地情况,有利于在老挝拓展业务"。
  在龙攀带领的团队中,掌握中文的老挝员工约占老挝当地员工总数的20%,他们的工资待遇普遍达到五百至六百美元,比不会中文的员工高出一到两倍。
  不过在他看来,老挝的"中文热"烧得还不够,未来仍将持续升温。
  "就老挝未来传媒公司来说,中文员工的缺口仍然较大,而据我所知,不少中资企业也面临同样问题",龙攀表示,"每到毕业季,掌握中文的毕业生往往被一抢而空,这说明,老挝华文教育的潜力空间依然很大。"
  龙攀对于华文教育前景的期待,其实一直都是很多人为之努力的方向。
  今年7月,中国在海外创建的首个高等学府——老挝苏州大学迎来首批22名本科毕业生。他们将利用所学投身老挝经济社会建设,促进老挝华文教育发展。此前,老挝苏大还专门设立了中国汉语水平考试(HSK)考点,开展中文培训。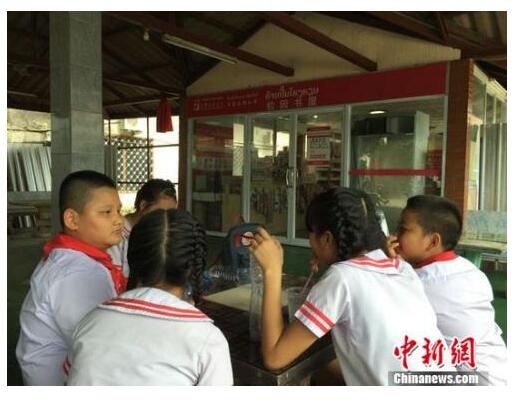 校园书屋旁嬉戏的学生。齐彬 摄
  与此同时,在中国暨南大学华文学院,也有一群来自老挝的留学生,正为了心中的"中文梦"而不懈努力。
  龚文章是老挝第四代华裔,目前正在攻读华文教育专业。他的故乡位于老挝琅南塔省,老挝对华唯一的国家级一类口岸——磨丁国际口岸就坐落于此。
  2015年8月,中老两国签署了《中国老挝磨憨-磨丁经济合作区建设共同总体方案》,标志着中国在老挝以及整个东南亚地区第一个跨境经济合作区的建立。当时,这个消息令龚文章振奋不已。
  "合作区的建立,必将给家乡经济发展带来巨大机遇,对于中文的需求也将达到前所未有的高度",龚文章表示,这更加坚定了他回国推广华文教育的决心。
  在龚文章的同学中,与他有类似想法的人还有不少。也正是由于这些"新鲜血液"的存在,老挝的"中文热"还将更加火热。(完)