ADW Enrollment Brochure of Three-year university Scholarship in 2019
I . Enrollment Plans
Enrollment specialty: Nursing, traditional Chinese medicine (acupuncture and tuina), rehabilitation, midwifery.
Enrollment number:40

II . Admission Requirements:
i. Graduating from high school;
ii. Ages from 18 to 22;
iii. be in good health, excellent performance;
ivChinese language professionally trained;
v. Certain economic ability for living expenses during the period of studies.

III. Educational system
Educational system: Three years in junior college;
If courses and graduation thesis are qualified for graduation, the Diploma with Chinese and English version will be delivered to the graduates;
Communicate in Chinese or English
Three year mainly focus on specialized course;
The students will enter the school on September, 2019.

IV. Expenditure and Scholarship:

Charging item
Paid-in amount
Remark Column
1
First prize
No tuition, no dorm fee, no book fee
Paid by scholarship
2
Second prize
No tuition,no book fee,pay dorm fee 1000RMB/year
Paid by scholarship
3
Third prize
tuition+ dorm fee =3000RMB/year
4
Physical Check
300 RMB
Submit to the
Governmental organizer
5
Residence Permit
400 RMB/year
6
Insurance
600 RMB/year
Note School canteen is available all day Students shall be responsible for the cost of living.
VI、Application and Admission
i. The applicant shall apply at www.lslsy.cn, VIP channels are preferred. Documents required include: Photocopy of valid passport; Photocopy of high school diploma or school certificate; Photo; Photocopy of study score sheet; Physical examination form (English and Chinese version ); Overseas Student Application Form.
ii. After examination and approval, photos of school admission notice will be sent to students, and students shall pay 2500 RMB for service fee.
iii. The original copy of Admission Notice Letter (English and Chinese version ) and JW202 application Visa form will be sent to applicant;
iv. With all documents received, applicant will apply for visa at the Chinese embassy and report to the university on time.
PS:
Subject to the official documents of the school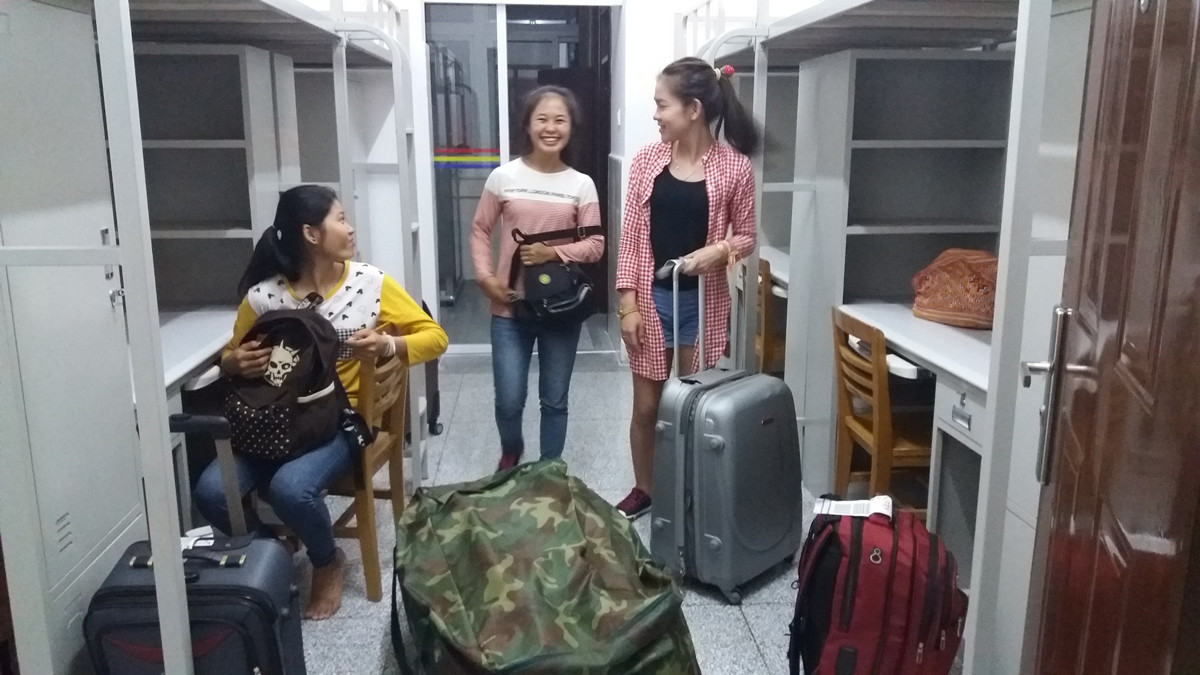 ADW 2019留学中国江苏3年大学招生简章
一、招生专业与人数
1.招生专业:护理,中医(针灸推拿),康复,助产。
2.招生人数: 40 人
二、招生对象与条件
高中毕业,年龄在18周岁以上,22岁以下,品行端正,身体健康,经中文专业培训,有家庭经济能力,能支持在我校学习期间的生活费用。
三、学制安排
大专学制3年;课程与论文成绩合格,颁发中英文大专毕业证书;中英正常交流。3年学习专业课程。
新生报到;2019年9月。
四、学习费用与奖学金政策
收费项目
实收金额
备注
1
一等奖
免学费,免宿舍费,免书本费
由奖学金交纳
2
二等奖
免学费,免书本费,收宿舍费1000RMB/年
由奖学金交纳
3
三等奖
学费+宿舍费=3000RMB/年
4
一次性体检费
300 RMB/一次
政府规定收取
5
外国人居住证
400 RMB/年
6
留学生保险
600 RMB/年
注:生活费自理;本校食堂全天供应。
五、报名办法
1.在
www.lslsy.cn
申请,选择VIP通道得到优先。上传:护照、高中毕业证书或证明信、照片、学习成绩单、中英身体检查表、申请表。
2.经审核通过,发给学校录取通知书照片,学生支付服务费共2500RMB;
3.寄发中英文录取通知书原件和JW202签证文件
4.凭上述文件去中国大使馆办理签证,并按时去中国;
PS:
以学校正式文件为准